For many Canadian snowbirds, heading south—whether it's to Fort Lauderdale, Scottsdale or Palm Springs—is an annual affair, one that takes careful planning and organization. Of course, before you can even begin to pack up, you'll want to make sure your RV and its tires are ready for this epic journey.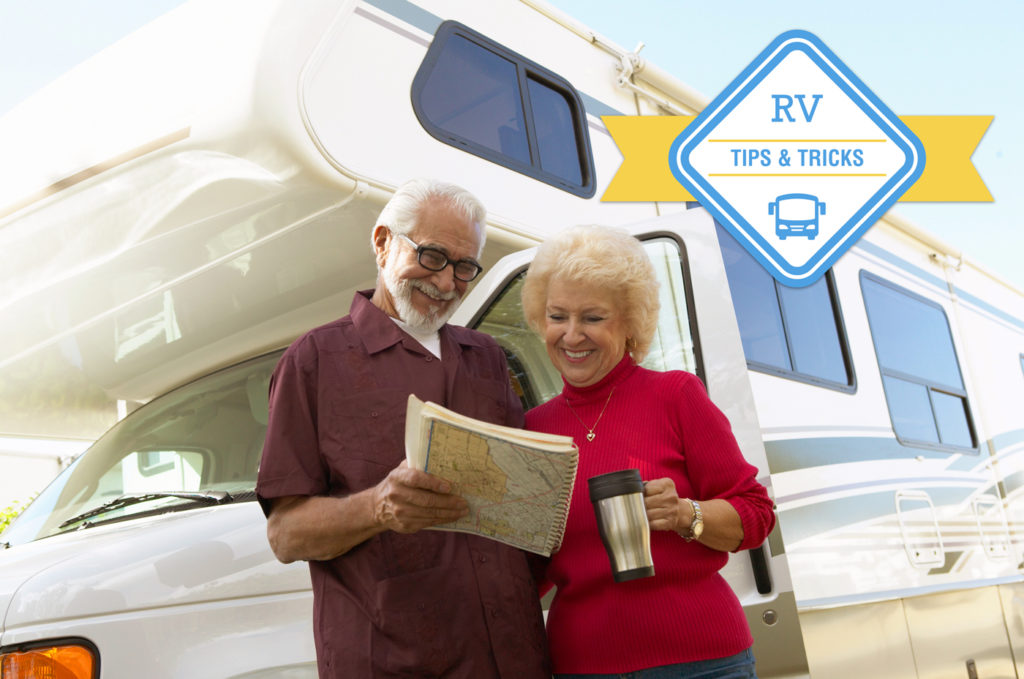 1. Inflate & inspect
No one wants to start their trip south with a flat tire. One of the best ways to ensure your tires are healthy and ready for the journey ahead is to check their pressure and condition.
Inflate tires to the recommended PSI, including your spare tire.
Inspect sidewalls for signs of weathering and aging, including cracking, feathering and fading.
Inspect the tread for depth and unusual wear (which could point to an alignment problem that could decrease the life of your tire. For a journey like this, where you may be crossing through the snow and mud of Canada before hitting the dry, hot pavement of the South, it's best to have a tread depth of at least 6/32". Your tires should still be in good shape for the trek back to Canada in the spring if you follow this guideline
2. Prepare
Even with all that inflating and inspecting, you can't always ward off debris on the road. Before you head out, make sure you have the necessary equipment to change a flat tire, including:
An accessible, well-inflated spare tire in good condition
Jack or ride-on ramp
Chock (for double-axle trailers and to keep other tires in place)
Tire iron
Cones to place around your RV as a warning to other drivers
3. Get your brakes in line
This is an essential step with any vehicle you plan on driving, and on any road condition. Even if your brakes are not making that horrendous squeaky noise when you depress them, a professional brake inspection should be done at least once a year, and an ideal time is in the weeks ahead of your cross-country journey.
A certified mechanic will check to see if your brake fluid is clear and transparent like cooking oil, and will replace it if it's dark and cloudy. They will also check to see if your brake pads and/or discs need replacing or if there is any damage to your brake lines.
4. Make sure your wheel bearings are bearing up
Most people find out about their wheel bearings when they hear a loud rhythmic and vibrating noise emanating from below their RV while driving. Some people confuse it with tire distress, but it usually means the seal on your wheel bearings is broken or damaged and the bearings are not 'rolling' properly.
Wheel bearings are a set of steel balls that ride the axel inside your wheel's hub and help your wheels spin fast and with as little friction as possible. A certified mechanic can check to see if the wheel bearings require repacking with new grease or if they need replacing. This can be done when you get your brakes inspected.
5. Get power to the people
Before you embark on any road trip, it's important to inspect your RV's electrical system (AC and DC), including all plug-in outlets, appliances, batteries, cables, AC unit, and especially your circuit breaker and fuses. Knowing where your circuit breaker is located and testing your fuses is imperative in preventing any power surges and your circuit from overheating, which in the worse case scenario can cause a fire.
If you're unsure of how your RV electrical system works, visit your local RV dealer or a certified mechanic. For this task, it's best to get assistance, as there is a risk of shock and serious injury.
6. Ensure lights are ready for action
Now it's time to make sure your exterior lights are in working order. First, ensure headlights, high beams, indicator lights, marker lights and brake lights shine in front and back of your RV, and triple-check that the wiring is working if you are towing your vehicle behind your RV. Having someone inspect your lights while you are in the driver's seat, turning them on and off, is best.
7. Have supplies at the ready
If your RV does break down, being prepared will go a long way. Carry an RV survival kit with emergency food and water, an LED flare, solar and hand-crank NOAA radio, LED flashlight, candles or lanterns, mobile phone charger, water purification tablets, hand warmers, etc.
Of course, double-check you've got what you need in the event of a flat tire, and that you've got tools to check your tire pressure throughout the journey.