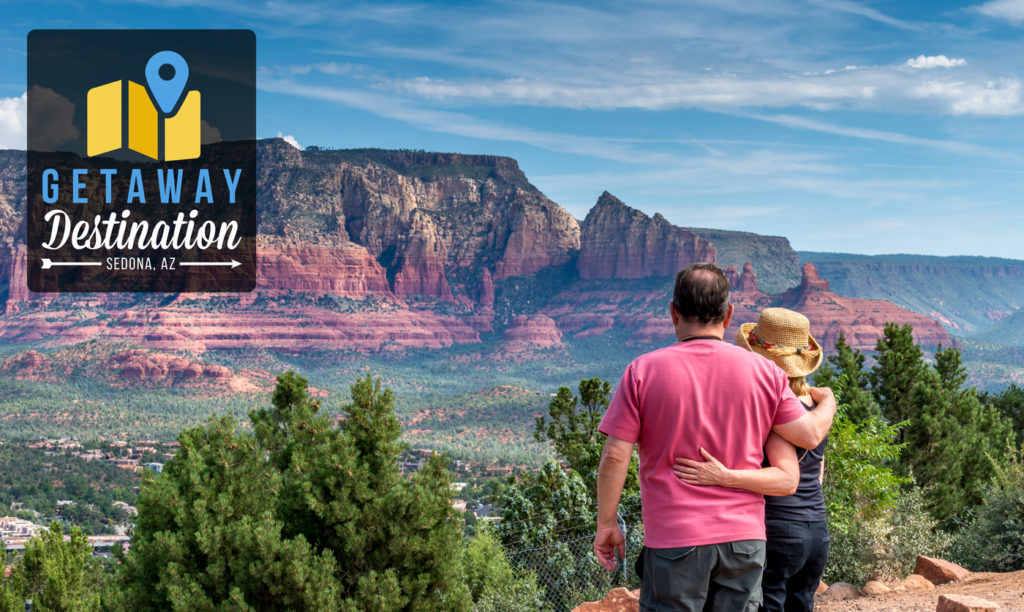 There's something about Sedona sunshine that attracts people to this area. It's the perfect place to stop along I-17 whether you are heading south to the sunbelt or driving home. Temperatures range from 8C (46F) to 26C (78F) from early fall through to late spring. There's plenty of sunshine and warm weather here to go around.
Your Stop Along the Way
Verde Valley RV Camping is the perfect place to stop on your journey north or south. Wake up in the morning and gaze out at expansive desert and mountain backdrops. Verde Valley RV is on 300 acres in the high desert. To the north are the majestic Red Rocks; to the west, the Mingus Mountains and to the south are the Hackberry Mountains. If that isn't enough, the RV resort is located next to the Alcantara Vineyards and Winery!
From Verde Valley RV, you are two hours north of Phoenix, and one hour south of Flagstaff. For a great day trip, take the two-and-a-half-hour drive to the Grand Canyon. Best of all, downtown Sedona is less than 30 minutes away.
Don't have an RV? No worries, you can pitch your tent or rent one of their cabins or new cottages that sleep up to six people! Get settled in and then get out and explore the neighborhood.
Sedona by Foot
Explore Sedona with your feet and discover some exceptional finds. The internationally renowned Tlaquepaque (pronounced Tla-keh-pah-keh), Arts & Crafts Village is a must visit. Enjoy an extraordinary assortment of shops and art galleries surrounded by restaurants and a microbrewery.
Sedona by Air
Look down at Sedona from your hot air balloon and you'll realize how amazing this land really is. Should you prefer your air adventures to have a bit more manoeuvrability, then a helicopter tour is the way to go. Rise above it all and see a Sedona in a way like no other.
Sedona by Rail
You'll feel transported back in time the moment you set foot on these fastidiously restored train cars. Enjoy a leisurely train ride where you connect with people by simply saying hello. Sit back, relax, order a beverage and then drink in the scenery along on a 32 km (20 mi) journey through 100 years of history. All this in climate controlled comfort.
Sedona by Water
Yes, Sedona is in the desert, but there's also plenty of water here. The Verde River offers up a myriad of fun things to do. Guided and self-guided tours are available. From the river, you'll see limestone hills with pre-historic caves. There are gorgeous mountain views and the river is lined with Sycamore, Cottonwood and Willow trees as well as cattails, reeds, flowers and grasses. Make sure you pack what you need for the day, as there are no stores or restaurants on these river tours.
Sedona by Trolley
If you like the train, you're sure to love the Red Rock Magic Trolley experience. There are several tours you can take. Enjoy a trip out to the Chapel of the Holy Cross, which takes you by the Tlaquepaque shopping centre and beautiful desert scenery. Or take a tour that teaches you about western movies and Native American history. Another tour takes you out for some postcard worthy photo ops.
Ghost Towns and Ranches
There's a real ghost town about a 30-minute drive NW of Verde Valley RV. Jerome, AZ is both America's most vertical city and its largest ghost town. Once a thriving mining town, the place is now busy with visitors keen on seeing how folks lived back in the mining hey days. Not much has changed in 100 years, except now it houses artists, musicians, writers and fallen-down building landlords.
The Blazin' M Ranch is one of those Sedona attractions that should be on your bucket list. Locals love it and visitors return time and time again. Step into the old west and try your hand at pitching horseshoes and shooting a Colt .45. When you've had enough fun, belly up to the bar in their western saloon for traditional salon beverages and some ranch style eats.
Get Your 'Om' On
Most people know of Sedona as the place where spiritual seekers come to gather. And it's true. It's here where you'll find the most eclectic, unique culture in the USA. Come for a massage or a healing, get a psychic reading or experience the rush of an energy vortex where it is said you will experience heightened spiritual and metaphysical energies.
There are so many things to see, do and experience in Sedona, you'll come back time and time again.