A Quiet Hideaway
Feel the warmth of the Florida sun at Tropical Palms RV Resort in Kissimmee, FL. It's the perfect central Florida hideaway.
"We truly are a hidden gem," said park GM Karla Hettinger. "We have 69 acres of prime central Florida real estate that's minutes away from dozens and dozens of theme parks. You can bring your RV here or stay in one of our private cottages. At the end of the day you come back to this quiet hideaway with your own private space. Guests love to relax and unwind by playing shuffleboard, mini golf, bocce ball, and horseshoes."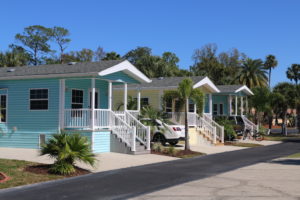 Hettinger said about 40% of the guests at Tropical Palms are from Canada. "Canadians are some of the nicest people I've ever met," she said. "Many of them started coming here years ago with their RV. When they decided the drive was too much, they purchased one of our Sandcastles, which is what we call the privately-owned cottages," she explained. "They keep coming back here because of the experience of community. The staff and other guests become like family, and they can't wait to come down and see them again."
The events and activities at Tropical Palms were designed with all ages in mind. "We made sure that everything we offer here can be enjoyed by a variety of people."
Places to Go… Things to Do
When you're ready to extend your adventures beyond the resort, you are a short drive away from the excitement of Disney World, Universal Theme Parks, Sea World, Kennedy Space Centre and Busch Gardens!
Disney World: This world-renowned theme park offers hours and hours of exploration. There are the rides; however, Disney World is so much more than that. Choose from a huge assortment of exhibits, pavilions and experiences, including an American Adventure Life Show and the Gallery of the Arts and History of Morocco. The Gran Fiesta Tour Starring the Three Caballeros, is a gentle boat ride through the Mexican pavilion. There's this and so much more to see and do in Disney World. You are sure to see characters from your childhood as you explore the park and delight in the laughter that surrounds you.
Universal Theme Parks: With so many exhilarating attractions to choose from, you'll want to plan enough time to experience it all! For reggae lovers, the Bob Marley – A Tribute to Freedom exhibit is a must see. The Blue Man Group is another super exciting experience you don't want to miss. This comedy, theatre, concert and dance party mash up delivers an incredible multi-sensory experience. Be sure to take in this dynamic show that has captivated millions of people worldwide!
Sea World: Take advantage of the opportunity to experience and learn about our planet's fascinating ocean creatures. The shark encounter offers guests the chance to view these ancient predators as the fascinating and intelligent creatures they are. Stingray Lagoon gives visitors the chance to get up close and personal with these peaceful water dwellers. You may just get soft high-five if you dare to place your hand gently on the surface of the water!
Kennedy Space Center: The Kennedy Space Center is a must visit for anyone who has ever stared up at the stars and wondered what it would be like to be out there. The space center is organized into Mission Zones. The attractions and tours offered by the Space Center are grouped by chronological era. You'll learn about the fascinating history of space travel, from the dawn of space exploration to current missions.
Busch Gardens: This park was recently recognized as being one of the best theme parks in the world. What you might not know is there are some incredible culinary experiences at Busch Gardens! If your taste buds tingle at the thought of barbecue, be sure to check out the Zambia Smokehouse. If dinner with a view is more your speed, visit the Serengeti Overlook Restaurant. For something completely different, indulge in a bacon pretzel fury at Twisted Tails Pretzels.
Meanwhile… Back at the Park
Once you've had all the excitement you can handle, head back to Tropical Palms. You can relax outside your RV and soak up some sun, or take part in one of the several programs they offer. Try your luck at candy bar Bingo, appreciation parties, block parties,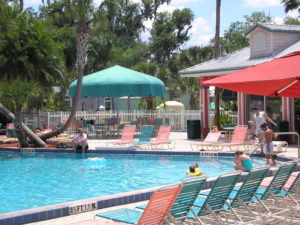 bean bag pizza parties, casino night, ice cream socials, yard sails, wine and paint nights, the trop-Olympics and dancing the night away to live music.
When the last tale has been told, the final song sung, it's time to head to bed so you can start all over again the next day.