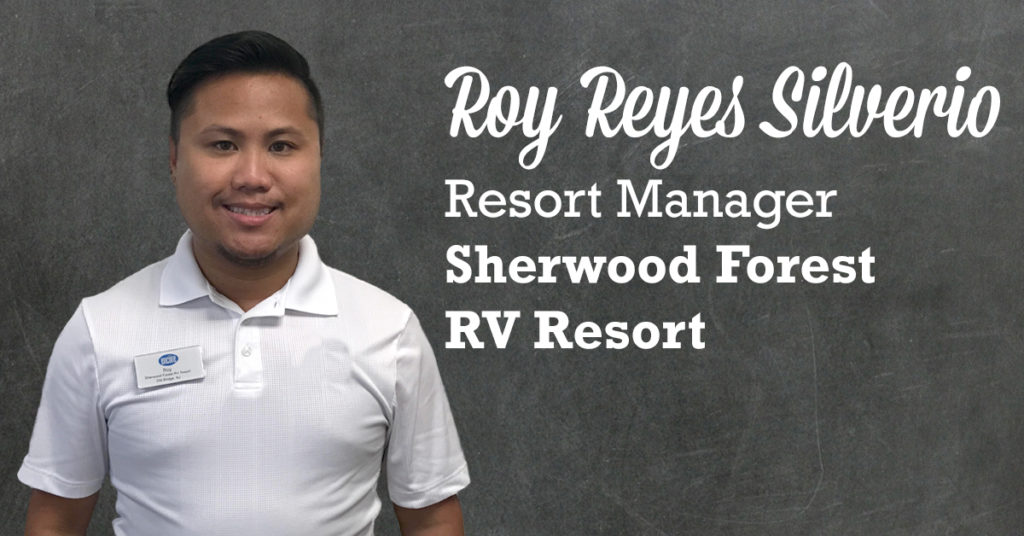 Name:

 Roy Reyes Silverio

In position since:

November 27th, 2014

Title:

Resort Manager

Work Location:

Sherwood Forest RV

Previous parks you've worked at (if applicable):

n/a

Favorite hobbies or sport(s):

Spending time with my family and friends, drawing and some karaoke
What brought you to Sherwood Forest?
My first introduction to the property was through another employee inviting me to play Bingo at the community. After that event, the rest was history. I never thought I would get the opportunity to grow with the company as I did. I had also never worked at an RV resort so the challenge of a new adventure peaked my interest.
What's the most rewarding aspect of being a Resort Manager?
The most rewarding aspect of being a Resort Manager for me would be the opportunity to interact with so many people. I love connecting and making bonds with customers and guests which turn into valued customer returns or new beginnings. It's our relationships that people remember and cling to, why not put that same emphasis to our clients? The guests and residents have become a Sherwood family that I love to spend time with.
How do you help make guests vacations at Sherwood Forest special?
The best way to understand what guests expect and want is by simply asking them. What acts do you like to see as far as entertainers go? What about the ice cream social made you want to come support us? Put yourself in their shoes and participate. Nothing gets your residents more interested than jumping in during a line dancing routine. You want to create memories that they will want to remember and give them a reason to come back for more.
Can you share something you've learned from your guests?
I've learned a lot from my guests. Their life experiences, their many travels and family stories. The one thing I have taken from everyone is don't be so serious. Broken water pipes can be repaired, cable can go haywire but the one thing that you can control is your outlook on things. Staying positive and not allowing yourself to become detracted from the world is essential and just makes you a better human being.
What's special about Sherwood Forest?
Whenever I get asked this question I always refer to Sherwood Forest as a hidden gem. The property is tucked cubby behind other local business that drowns out the hussle and bussle of the major highway but we are still so close to everything your heart desires. Between the vast choices of dining and local eateries you can find just about anything within a 10 mile radius. The attractions are a big seller as well. Why not save a buck camping instead of a hotel and use the extra money to spend at Sea World or Disney. We even promote our local attractions that are not costly that just give us an edge due to our location.
Can you use 3 words to describe your RV park to someone who is considering visiting Kissimmee?
The first word I would use to describe Sherwood is "exciting". We know how to have a good time here even if we are grilling hot dogs and hamburgers in the blistering heat. Every event is such a joy to participate in that we want you wanting more. The second word I would choose is "friendly". I have come to see the residents and guests to form groups and connections that present during dinners. They will come in before a potluck and reserve a table just so they can sit by their friends. It's truly a sight and a testament to their belief in friendship. Last word that comes to my mind would be "relaxed". Nothing like hearing about a lazy day at the pool. You can't go wrong with knowing you can spend your day just lounging about the property and enjoying the comforts of the amenities on site. You can choose to play a round of golf at our miniature putt putt course or even surf the internet at our rec center. You choose your own activities and events, there is no wrong way to vacation.
What area attractions or entertainment do you recommend guests experience while at Sherwood Forest?
The best bang for your buck I could offer would be Old Town and Fun Spot. Both are just 1 mile from the property that offer games and rides for kids plus some bars and shopping for adults. There is also a great place to kayak for those outdoor activity junkies at The Paddling Center at Shingle Creek. Obviously you can't go wrong with Disney, Sea World, Universal, Legoland and all the other major attractions close by. If you think it, we probably have it.
What accomplishment at Sherwood Forest are you most proud of? Why?
There are a lot of things that we do as managers on a daily basis that change the property for the better but the one accomplishment I take with me is really delving into the activities we provide. Of course there are the staples such as potluck, bingo and cards but I didn't want it to just end there. We have introduced new performers to the resort, painting classes, Happy Hour at our tiki bar and other events that give people a reason to come out of their campers and see us. I'm not afraid of trying anything once, if it works do it again, otherwise look for another event to fill the guests calendars up with another fun filled activity.
What's your favorite funny story to tell from Sherwood Forest?
One of the funniest stories I can recollect is helping aid the guard shack dressed in a Luigi costume from the Mario Brothers. It was close to Halloween and I was trying out an outfit to wear and was asked by other employees to drive around the community in it. As we reached the entrance we all collectively thought the same idea as to have me wave in traffic. We were laughing from the time I stepped off that golf cart to my departure. Everyone stopped that night to get a good look and it made for a good story to those who caught me in character.
Can you share your favourite memory at Sherwood Forest?
One of my most memorable moments I can think of is when I was finally offered the management position. It had finally come to fruition on Thanksgiving day and during my speech to the guests at Thanksgiving Dinner in the clubhouse I announced to everyone my new role as manager. Everyone was so supportive and I'm still so thankful to be here to this day. Whenever I need a reminder as to why I do what I do, I think back to that day and it pushes me to do more and want more for the property and the guests.
Can you tell us about some of the friendships that have developed between guests at Sherwood Forest?
The bonds of friendship truly shine when I think about Sherwood. One group that comes to mind rotates dinner and drinks from camper to camper every night and have even put up lights for the holidays which coincided with each other. And if you weren't aware of how close these guests get with each other just wait for a meal event. You'll always have one in the group come in before the event to save seats for their gang. A lot of the guests that come truly call their stay here with us their home away from home.
Why do you think your veteran guests keep coming back to Sherwood Forest?
I can think of many reasons guests return to Sherwood Forest. The location, the activities, their friends and even the staff. We have formed quite the family here and when our guests return it's like seeing a long lost relative finally coming back home. When you treat your guests like they belong, that's what gives them a reason to come back. When our long term guests come in and mention they don't want to check out yet, that's a sign you've locked them in for another fun filled stay next time around.
Do you have any last words or thoughts for your guests?
Sherwood Forest is a breath of fresh air. We enjoy nothing but providing guests with the best experience they can get while creating memories of their own. Our location offers so many amazing dining options and you can easily stay entertained by all the local attractions and activities. If you are looking for a getaway from your normal everyday routine, come visit us even for a weekend. Give yourself the opportunity to visit old friends, make new friends and join the Sherwood tribe.