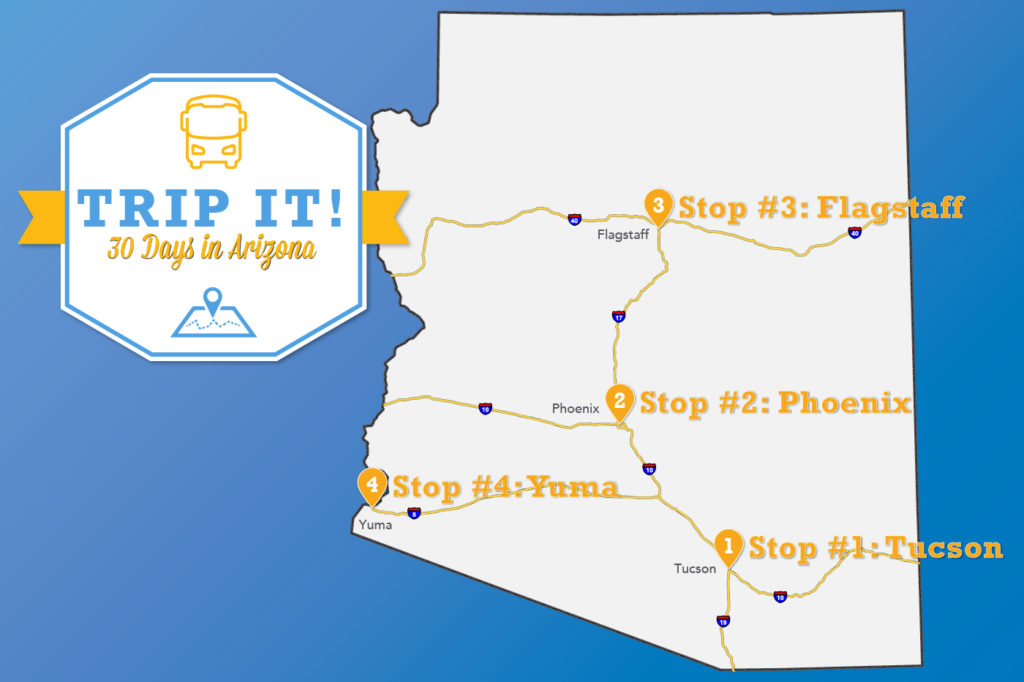 Although Arizona has many RV resorts throughout the state, most of them are age-qualified (which means they're for guests 55+), which is why the state is famous for the snowbirds who flock here every winter from Canada and the colder northern states. However, it is just as majestic and full of life in the spring, summer, and fall.
Regardless of when you visit, you'll have more than enough to fill 30 days in Arizona if you plan your trip with our roadmap to the Grand Canyon state. Just remember that if you're a young family ask if the campgrounds that you plan to stay at are age-qualified or family-friendly.
We'll travel from the south east of the state, up through Phoenix, to the Grand Canyon, and then back down, stopping at a location that might surprise you, before catching the 3:10 to Yuma in the south west.
Tucson (Days 1-5)
We're starting in the southeast of the state because this route is the best way to see the full variety of Arizona's surprisingly diverse geography, but it also fits in nicely with a cross country drive. Coming from El Paso Texas you would take Highway 25 clear across the bottom of New Mexico to arrive in Tucson.
If you have your heart set on Albuquerque then it may be better to travel through Arizona from North to South, but we definitely recommend making the extra effort to see Tucson.
Why?
Well, at just over half a million people, Tucson has all the amenities of a big city while still maintaining a small town feel – all set in a stunning location.
Where to Stay
Voyager RV Resort is perfectly located to provide you with an opportunity to see everything Tucson has to offer, but you might find yourself reluctant to leave the resort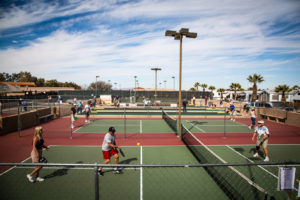 . When they say 'resort' they mean it. Voyager has everything that an RVer could want and more including: a pool, bocce ball, billiards, golf, pickleball, a spa and sauna, and a clubhouse (just to name a few amenities)
What to Do in Tucson
The Black Hill
The name Tucson is derived from a Native American word meaning 'at the base of the black hill' and one look at Tucson explains why. The city is located at the base of what is now called Sentinel Peak which is primarily made of dark volcanic rock known as basalt. It not only makes for a great backdrop, but also for hiking and a view of the city as well.
Alpine Forests and Skiing
Yes, you read that right! Often when people think of Arizona they only think of barren desert, but Tucson is located high on a plateau and Mt. Lemmon which sits north of the city is so high that it is home to an alpine forest!
In the winter months there is even skiing in the Mount Lemmon Ski valley. This is also a good time to stress that, because of its altitude, it sometimes snows in Tucson so if you are looking for a mid-winter escape from the cold, look elsewhere in the state.
Explore Nature
Tohono Chul (a garden bistro), the Tucson Botanical Gardens, the Arizona-Sonora Desert Museum, and Saguaro National Park East and West (home to thousands of Arizona's most famous cacti) make Tucson a nature lover's paradise.
To escape the heat you might want to venture down below ground to explore Colossal Cave Mountain Park or Kartchner Caverns State Park.
Phoenix – Mesa (Days 6-12)
Less than two hours from Tucson is the capital and largest city: Phoenix.  Over 16 million people flock to Phoenix every year and it is no secret why: Like the mythical creature it is named after Phoenix is hot. If sunbathing is your goal then there is nowhere better in the US. and sits at the centre of what is called 'the valley of the sun'.
Where to Stay
Mesa Spirit RV Resort is popular because of its large size – with over 1600 spaces and all the amenities of a traditional campground (including three pools, hot tubs, fitness, mini-golf, tennis courts and a banquet hall) there are lots of activities going on here. In fact, with event coordinators on site 24/7, this resort is a good place for a long-term stay.
Monte Vista RV Resort at the base of Superstition Mountains is one of the few all-aged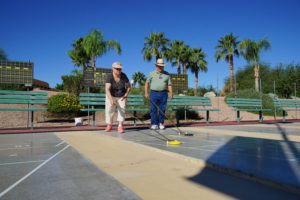 RV parks in Arizona. This campground is huge, with its own coffee bar and lots of sports and activities to keep you busy. But with its spectacular mountain backdrops, it's likely that you'll want to sit back and enjoy the view.
ViewPoint Golf & RV Resort  is also located in popular Mesa, Arizona, and boasts a well-maintained golf and RV community set at the base of the Superstition Mountains. Just outside the Tonto National Forest, Viewpoint offers scenic views that can be enjoyed from your on site RV or mobile home.
What to Do
Montezuma's Castle and Montezuma's Well both provide a unique (and breathtaking) look into the lives of the native population that once dominated the area.
Lake Havasu is home to London Bridge…yes that London bridge, an entrepreneur named Robert Paxton McCulloch purchased the old london bridge, shipped it brick by brick and rebuilt it on the lake (a rumour claims that he thought he was buying the iconic Tower Bridge but locals deny this myth).
Phoenix is a sport lover's mecca. You'll find the Phoenix Suns (basketball), Arizona Diamondbacks (baseball), Phoenix Coyotes (NHL), and Arizona Cardinals (NFL) here. Tonto National Park is just a short drive away, as is Sonoran Desert National Monument.
Flagstaff Arizona (Days 14-23)
Flagstaff  is in close proximity to some of the most amazing sites in the entire United States. Not bad for a town of just over 70,000 in northern Arizona.
Where to Stay
The best place to stay near Flagstaff is definitely Verde Valley RV Resorts, best known for its expansive desert and mountain backdrops. Situated on the Verde River, this 300-acre oasis in the high desert of Arizona, this resort has it all – the majestic beauty of the Red Rocks to the north, Mingus Mountains to the west, the Hackberry Mountains to the south and it is adjacent to beautiful Alcantara Vineyards (perfect for an evening of wine-tasting)!
While you're here make sure you take advantage of the kayaking and make time for a scenic drive through Sedona. It's the perfect place to stop along I-17 whether you are heading south to the sunbelt or driving home. Temperatures range from 8C (46F) to 26C (78F) from early fall through to late spring. There's plenty of sunshine and warm weather here to go around.
The Grand Canyon
Ask anyone what they know about Arizona and more often than not they will bring up the Grand Canyon. This natural wonder of the world is 277 miles long, 18 miles wide in places, and over a mile deep. Camping in Grand Canyon National Park is available and probably the best way to make the most of this amazing site.
The Pueblo considered the canyon a holy site, and even if you don't share their beliefs you will immediately understand why. Seeing the Grand Canyon is a truly a once in a lifetime experience.
Meteor Crater
Often overshadowed by the Grand Canyon, Meteor National Park is relatively close to Flagstaff. Although not as big as the Grand Canyon, it is just as impressive in its own right. At over 3,700 feet wide and 560 feet deep this 50,000 year old impact site is remarkable to behold. The meteor which caused this massive impact is believed to have been made of nickel-iron and was over 160 feet across.
Lowell Observatory
One of the oldest and most important observatories in America, the Lowell Observatory has become a tourist attraction for scientists, science lovers, and people just passing through. Lowell is where Pluto was discovered, and despite first being established in 1894, it is still in operation as an observatory today.
Yuma (Days 24-30)
Yuma is in the far southwestern tip of the state of Arizona bordering Mexico and California, making it the perfect place to stop if you are headed to the Golden State. Yuma may not have the majesty of the Grand Canyon, the natural beauty of Tucson, or the big-city attractions of Phoenix, but if you came to Arizona for the weather then this is the place to be.
Yuma is the driest, the sunniest, and the least humid place in the contiguous US. It also boasts the most days with a maximum temperature of 90 degrees fahrenheit or more – 175 days a year to be exact – and claims to be the sunniest place in the world with sun during 90% of daytime hours.  
Where to Stay
Yuma's weather and location make it a popular destination which is why there are so many RV resorts here. Araby Acres is one of Yuma's most popular campgrounds because of it's beautiful landscapes, but you'll also find beauty and lots of amenities at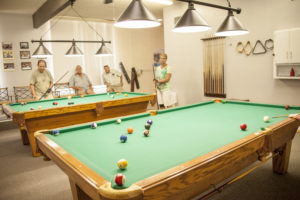 Desert Paradise RV Resort; Foothill Village RV Resort and Mesa Verde Resort.
What to Do
The Imperial National Wildlife Refuge stretches along the Colorado River and offers sites of both desert and wetlands, making it a prime spot for anyone interested in hiking, bird watching, fishing, or boating.
Gateway Park offers beaches and a relaxing, lazy river environment for families who want to spend some time communing with nature. If you've got a dog, they'll love spending some time here!
The Yuma Crossing National Heritage Area is a historical tribute to the Yuma Crossing, and also offers a number of beautiful parks and historic walking areas.
The Camel Farm is a great place to see camels, yes, but also a wide variety of animals. Kids will love the petting zoo, and nature lovers will enjoy a chance to see water buffalo in their natural habitat.
Whether you're headed home after your stay in Yuma, or you're off to explore Mexico or California, you'll be glad you took the time to enjoy the beauty and weather of this historic location.
Make This Trip Your Own!
This itinerary is just a starting point. Whether you choose to follow it, or create one of your own, if you're looking for tips about where and when to visit Arizona, give our customer service team a call at 1-877-570-2267 or visit RVontheGo.com for more information.