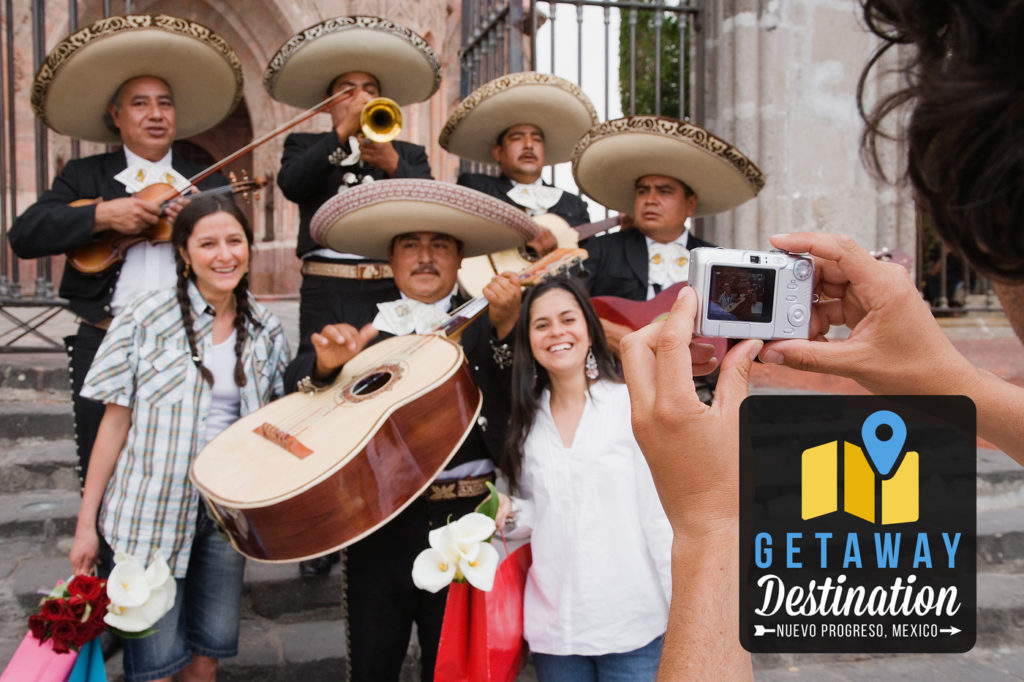 There's a great little town just 45 minutes from Fun and Sun RV Resort in San Benito, Texas that has everyone spreading the news.
Nuevo Progreso is a town located across the Mexican border that offers up spectacular shopping and fun things to do. They call themselves the friendliest folks on the border, and if you ask any Winter Texan, they'll probably agree.
"The people in Nuevo Progresso really look after the visitors," said long time Fun and Sun resident, Canadian, Gary Scott. "We get a lot of people from Ontario, Winnipeg, Saskatchewan and BC come down to Fun and Sun. They are great people, and we all head over to Nuevo Progreso."
Walk Across the Border
Gary is a true-blue Winter Texan. He loves the town, the people and all there is to do there.
"It's right across the border from Progresso, Texas, and it's so easy to get to," he said. "My wife and I usually just walk right across the border. There's a bridge across the Rio Grande River from the US to Mexico. The river isn't very wide at that point so most people park their cars in the States and walk over."
Gary and his wife love the fact that it's only a half hour drive from Fun and Sun in San Benito, and that they feel safe and very welcome in Nuevo Progreso.
Dentists and Shopping
Many Winter Texans, snowbirds and Americans head over to Nuevo Progreso for dental services. Some of the country's highest rated dental experts practice here, over 40 offices in all. "A lot of people go over there to get the medication and to go to the dentists," explained Gary. "It's cheaper than in the USA. You can go across and get your teeth cleaned for $20! A lot of Canadians and Americans that don't have dental plans just cross the border and get their work done."
"We like to go over there for a fun day. We do some shopping and have something to eat," he said. "We might go over a few times a week. It's one of the safer places in Mexico and it is typically a town that caters to tourists."
"The department stores here are great," said Gary. "They have one called the El Disco Super Center. It's the largest department store in town and has everything from rustic furniture to music, piñatas and cowboy hats. At El Disco, they even have a bar. It's called Panchos. It's quite the place for Winter Texans. We come here to eat, drink and dance. The bartenders are friendly and they all know your name after a while."
They have other stores in town as well that carry everything a Winter Texan would need for the season, even hair salons and barbers. "I can get my hair cut for $4 here!" he said with a smile.
Festivals, Food and Fun
Twice a year they hold festivals that celebrate the tourists who help keep the town's economy alive. "They have this one in January called Welcome Back Winter Texan Day. All the vendors have all their goods out on the street," said Gary. "There's free tequila and free beer too! It's a really good hoot. Then in March, they have Winter Texan appreciation day. There are mariachi bands playing and they give away little goodies. There are thousands of people that go over there for that."
Nuevo Progreso is also known for its food. Ttry some authentic Mexican food prepared by the people who know it best. There's also seafood restaurants, Italian and great steaks. Most restaurants are family friendly, and have live music. For more music, just step outside and listen to the street entertainers.
Gary and his wife will be back next year so they can enjoy the diversity, safety and rich culture of Progreso Nuevo.