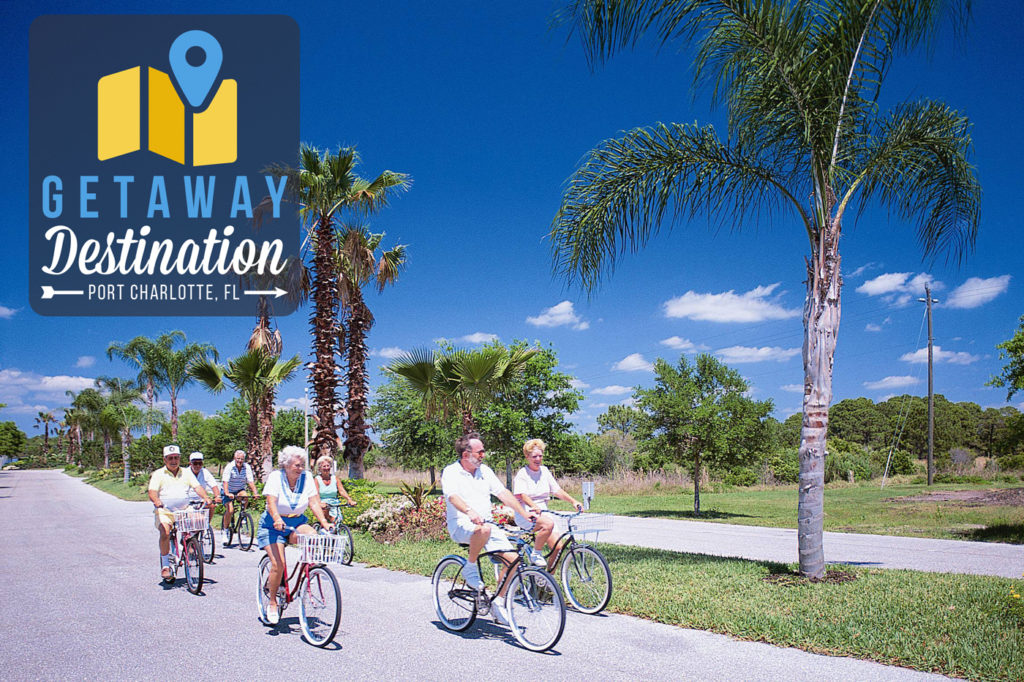 Port Charlotte is located midway between Sarasota and Fort Myers, Florida, yet for all of its attractions it is frequently missed by Snowbirds heading south through the state.
That's not unusual because in the last century railroads and highways missed it as well and it remained an area of farming and ranching. Development changed all of that and in 2015, Forbes listed Port Charlotte on the list of 25 best places to retire. The many RV parks attest to the fact that a large number of snowbirds now call Port Charlotte home, at least for the winter.
Possibly its location at the upper end of a long sheltered bay has a lot to do with its present popularity. The large number of gulf islands and miles and miles of quiet waterways provide abundant water activities for those interested. This estuary with a mix
of freshwater and seawater is a top area for several varieties of fish just waiting for you to wet your line. This can be especially exciting if you join a chartered fishing vessel. The silent coves and peaceful waterways provide miles of enjoyable canoeing and paddling. If you are looking for rest and relaxation on white, sandy beaches, then the miles of beaches of the harbour, and the Gulf islands are sure to attract you.
These waters are ranked highly as top places to sail in Florida and many Snowbirds arrive with their own boats to spend the winter. The bay is wide and provides plenty of opportunity for the skilled, and unskilled sailors. There are several yacht clubs and many have sailing lessons available for the novice, or to teach new skills to the experienced sailors. The availability of sailing charters attracts a lot of visitors who don't have a boat, but want to experience the lure of the open water while captained by experienced staff. Often a small group will charter a captained craft for a day, a weekend, or a week to explore the Gulf Islands and even farther away, southward into the Florida Keys.
Port Charlotte's 20 golf courses are designed to keep you in town. Rolling green fairways, edged by sparkling blue water and punctuated with cleverly designed white sandy traps will certainly hone your skills. Enjoying a game in the sun, the gentle breezes softly blowing in your hair, and the memories of snowy fields left behind, is a major reason so many Canadians are spending the winter here.
Of course if you really want to slow down you can join the many visitors who know that
Florida is a birders' paradise. There are several wildlife management areas near Port Charlotte that are set aside to protect the birds. Thousands of acres of protected lands are there for you to enjoy. Some have winding trails suitable for slow drives through the cool pine forests and along the freshwater habitats. A host of environmental centres have interpretive walks along miles of carefully designed trails where you can spot the graceful hawks, or the many flitting smaller birds that spend the winters here.
You might like to finish off the day by relaxing while others do the work. The Charlotte Symphony orchestra's 70 musicians present several concerts and highlight some of the major holidays with music. It's a great place to be when they present their Christmas Pops coming forth with traditional carols and other great music heralding the season.
Do you like plays? There is always time to watch groups such as the Charlotte Players who are just one of the theatrical productions you can find in the area.
Nearby Punta Gorda has become a leader in the country as a top Mural Town. Twenty nine painted murals showcase the history of the town. Pick up, or download, a walking tour map through the streets and discover these beautiful murals. Find a place to sit and relax as you marvel at the artist's skill in re-creating memories of Punta Gorda's past. It doesn't hurt either if the place you find to sit is at a rustic, shaded sidewalk café.
The area is also known for the diverse art galleries. Their art is not confined to canvas.
Many visitors drop in to see driftwood carvings, or art with seashells. These artists have so many novel ideas in creating objects that are one of a kind. Whether you are looking for oil paintings, sculptures, ornate jewellery, or beautiful vases and pots, you are sure to find them.
Shopping for some is a well honed skill, and the Port Charlotte Town Centre has more than 100 stores in which to practise those skills. Places to eat too! Port Charlotte's huge variety of restaurants cater to the wishes of the winter visitor. You may want to go with the southern style barbecued foods, or the exotic food from some distant lands, but you'll certainly be stopping at one of the seafront diners for a wide choice of fresh seafood.
Snowbirds are usually looking for a place with a warm, relaxing atmosphere to spend the winter. They also want the opportunities to be there for more strenuous activities. So whether it's miles of quiet beaches, sailing, golf, or shopping, Port Charlotte has it all.