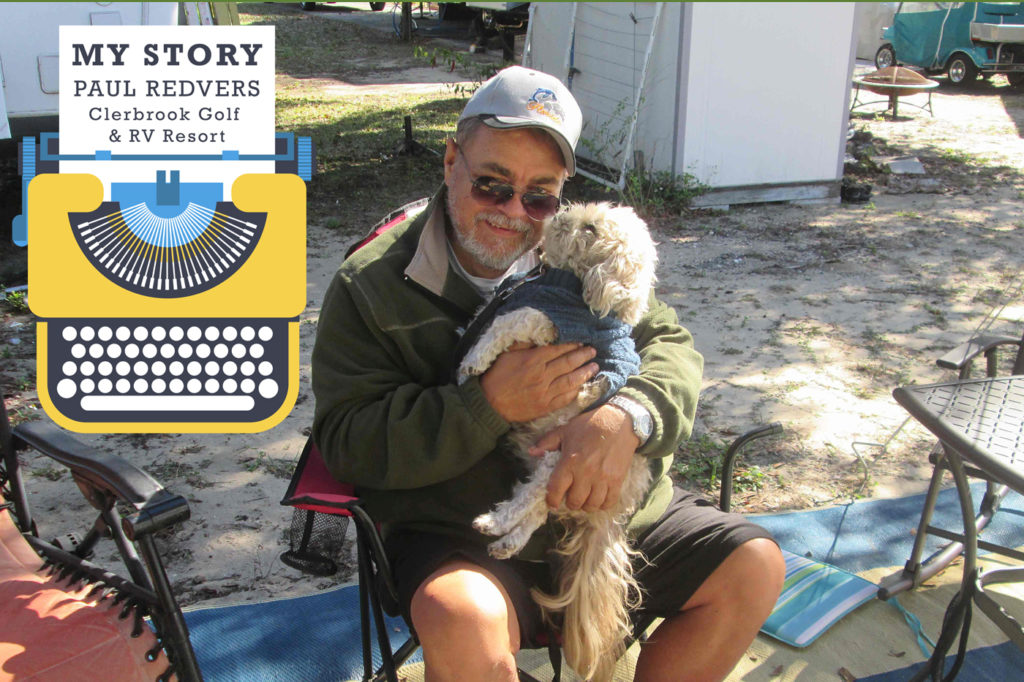 My wife and I are snowbirds from Canada and we love being Thousand Trails RV Campgrounds members. We take full advantage of the fact they have a reciprocal arrangement with Encore RV Resorts. It was through them we gained access to Clerbrook Golf and RV Resort, with over 1,250 sites on 287 acres in the heart of Lake County near Orlando. The seasonal rates here are quite affordable and Thousand Trails members can use Clerbrook as an alternate to Orlando under their membership.
Friendly People
The best part about staying at Clerbrook is the staff and the fellow campers The staff here is always cheerful. The manager and maintenance staff usually wave when they see guests and they are all very helpful. The people who camp here are friendly and welcoming. We arrived as short stay campers and were accepted by everyone. During our stay we got to take part in several activities and meet other people.
Golf and So Much More
Clerbrook is a classic Encore RV park that makes snowbirds feel right at home. Clerbrook is situated around all 18 holes of the Clerbrook Golf Club. This is a great course with rolling fairways and greens, set against the backdrop of a nature preserves and lakes. Golfers love it here; but if you aren't a golfer, there's still lots to see and do.
We loved the wide range of programs and social events they have. They had everything we needed including heated swimming pools, hot tubs, rec hall, BBQ and picnic areas, a billiard room and card rooms. On top of that there's a fishing area, a fitness center, horse shoe pits and nature walks. We loved the card games including Texas Hold 'em Poker and Bridge. There's arts and crafts too, if you feel so inclined. They sometimes bring in name entertainment acts and they hold several events here. Oh, and it's also pet friendly.
Places to Go Nearby
The great thing about Clerbrook RV is that it has so much going on around it as well. For golfers, there are several other course nearby. Clermont is about a half hour drive from Disney World and Universal Studios. It's also near Sea World and Hollywood Studios. There's lots to see and do with great shopping, restaurants and cinemas nearby. Wine lovers can head down the highway to Lakeridge Winery for free tastings and a tour. They have a summer music series that is free as well. The hot weather here makes it perfect for growing Muscadine grape varieties. You'll have to taste for yourself and find out which ones you like. We thought the Proprietor's Reserve was a world class dessert wine.
Day Trips
Orlando and Tampa are close enough for a day trip from Clerbrook RV. Baseball fans will love that there are several spring training venues nearby. Drive 75 minutes east to the Atlantic Ocean, Port Canaveral and Cocoa Beach. Or head west for 90 minutes to the Chassahowitzka National Wildlife Refuge and Pine Island on the Gulf coast. There are literally dozens and dozens of lakes in the area, so there's plenty of places to go fishing and then head back at night to tell your fish stories.
Wi-Fi and TV
When it comes to Wi-Fi, they have a reasonably fast hotspot here and it is worth the small cost. I do recommend an exterior antenna to maximize your connection. You can get several stations with decent reception over the air TV from Orlando
We'll Be Back!
From our experience, Clerbrook Golf and RV Resort is a great place to stay. If you don't have an RV, you can rent one of their furnished onsite rentals. We look forward to our next visit here.