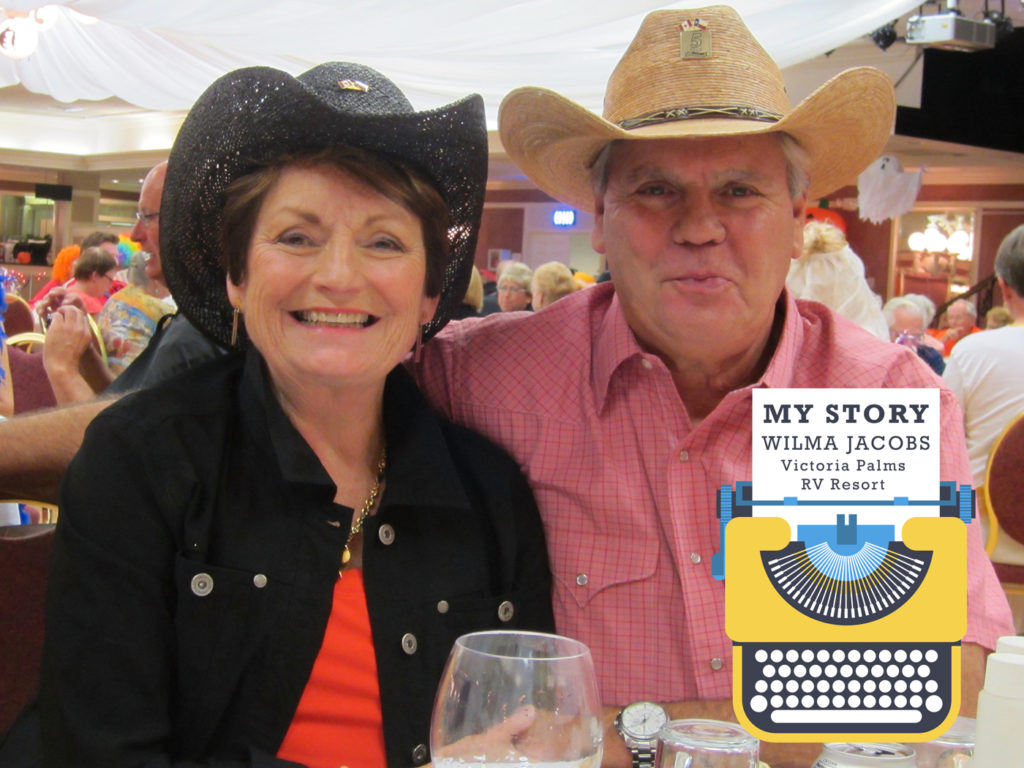 For the past ten years, my husband Jack and I have been wintering in the Rio Grande Valley (RGV) of south Texas. We are called "Winter Texans" as opposed to the "Snowbirds" in Florida & Arizona.
As new retirees, we first visited many southern states, wandering the roads with our motor home, from Florida to California. When we found Texas, it immediately felt like home. We are now two of the thousands of retired Canadians who make the trip to the RGV each winter – some RV parks / Mobile home resorts here are 60 or more percent Canadian residents.
The prices of food, accommodation and entertainment are generally much lower in Texas than other southern states, it is less crowded, the weather is usually wonderful (mid-seventies warm and windy but with little to no humidity in the winter) – and the people are very friendly and relaxed. They LOVE Winter Texans and advertise it everywhere with "welcome back" on billboards and store signs. There is even a "Welcome Back Winter Texans" regular newsmagazine.
Another real positive for us is the proximity to Mexico, where we thoroughly enjoy the Latino culture. The Mexican people – contrary to what we read in the mass media about the drug cartels – are warm, fun loving, and God-fearing. They offer tasty food in their many restaurants, lively entertainment and colourful hand-made crafts – all at very low prices. Many Winter Texans volunteer across the border, building homes and staffing the free medical clinic in the small town just south of us – a town that we feel quite safe visiting on a regular basis.
We also are happy to have access to the Gulf beaches of South Padre Island and enjoy the fresh-caught seafood from that area. Of course, Texas is world-renowned for chilli cook-offs and BBQ contests (smoked, not grilled) – so there is always a lot to eat.
Our Resort has many citrus trees so you can pick fresh grapefruit, limes, lemons and oranges right out of your own backyard. And the Valley grows many other vegetables and fruits (onions, cabbages, cauliflower, lettuce, melons, watermelon, strawberries) – often three crops a year – which are fresh and inexpensive to buy.
If you like rodeos and stock shows, and bloodless bull fighting, south Texas can entertain you. But, by far, Texas is a place for music – from country-western to Mariachi – you'll find live music almost everywhere in the numerous cafes and bars where you can dance, and enjoy inexpensive beer, margaritas, tequila and wine. If you play a guitar, bring it along, as there are jam sessions all over the Valley every week. Karaoke is also a popular musical activity.
Gated-communities like ours (Victoria Palms Resort) offer an almost unlimited number of activities (pickle ball, bocce ball, aqua-fit, bike clubs, car racing, stained glass, wood carving, ceramics, Spanish classes, book club, golf leagues, art classes, line dancing, country-western dancing, ballroom dancing, sewing, quilting, computer classes, tennis, poker, too many card games to mention, jam sessions, live entertainment in our ballroom, darts, bingo, wood working, karaoke, billiards, shuffle board, horse shoes – and so on). Add the ever-present happy hours, ice-cream socials, pool parties and potluck suppers, and you can fill up your calendar very quickly.
Those are some of the many reasons why we have invested in a mobile home, western boots and hats – and why we keep coming back to Texas.
Wilma Jacobs