When you find a place that feels as comfortable and enjoyable as being at home, chances are you're going to want to stay there, especially if the weather is great!
Toby's RV Resort
in Arcadia, Florida is extremely popular, in part due to its great value among Florida RV resorts and its location off the beaten path.
Meet Bill
They say if you want to know something about a place, you ask a local. While most RV resorts have a fairly transient population, Toby's RV Resort in Arcadia, FL, has residents who park their RVs here year-round and stay for more than a season. Bill Payne and his wife Ruth are two of those residents. They like living here so much here, they came down early!
"I heard about Toby's from some friends that were down here," explained Bill. "They loved it here so we came down to see what it was like. That was in January 2010 and we've been coming here ever since. We usually come down here for six or seven months. This year it will probably be eight or nine months."
Bill is one of the 800 or so people who come to stay at Toby's RV every year. There are a handful that live there year-round. "We get a lot of people here from Michigan, Ohio, New York, New Hampshire, New Jersey, Maine, Maryland, Massachusetts, Minnesota, Connecticut and quite a few come down from all over Canada. We even have people come down here from Alaska," he said.
Keeping Busy in the Resort
Bill knows how to keep himself and others busy. In fact, he arranges some of the activities. He sits on the activity board and is in charge of the Ice Cream Social, hall rentals, and helps with bringing in entertainment.
"There's so much to do here!" he exclaimed. "We have something pretty much every day and night. We have the Unknown DJ, a park resident from Canada, who DJs 50s to 90s music, and there's live music a few times a month. We have Christmas parties and New Years' Eve parties, Valentine's parties…"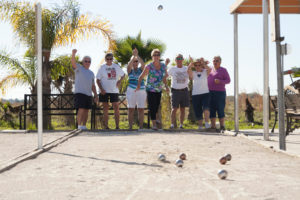 Suffice it to say there are over 80 activities a month. Yes, that's right, a month, that you can take part in. From pickleball to Pétanque, you're bound to find a thing or two to keep you busy here.
"Our Ice Cream Socials are every Sunday," said Bill as he looked for his activities list. "We have regular Bingo on Monday and Friday nights and Card Bingo, that you play with a deck of cards, on Wednesday nights."
Bill finds his list and then the information really started flowing. "Our most popular activities are shuffleboard, bocce ball, and horseshoes. We have a live music jam every Tuesday night and every other Thursday there's a pot luck supper. There are dances twice a month on Saturday and shows twice a month too. About 100 – 200 people will show up to each of these events. The hall here holds 300 people."
With all these activities, you might think it would be expensive, but the activity committee has that all figured out. "We sell activity cards for $12.50 for six months from November to end of March. That will get you into the dances and the shows for free. If you don't have a card – it's $10 each to get into the dance or a show. Coming up in March we even have Dion Pride, Charlie Pride's son, coming to perform for us."
There's more on Bill's list. About once a month they have someone come in to cook up a lunch. The last few years they've had someone come in and smoke up ribs for their rib dinner. There's coffee and donuts every Friday morning where the coffee is free and donuts are 50 cents.
Keep on Learning
There are classes here as well. And not just one or two, there are a dozen or so, with more being thought up every year. "You can take just about any kind of class here," Bill said with a touch of pride in his voice. You can really tell he loves it here. "We have painting classes and if you want something different there are stained glass classes. There's quilting and needlework and crocheting too, and beading classes every Friday morning."
He pauses for a moment. "Oh, there's line dancing classes too, that's always fun. Then we have a younger gal from Canada who comes here and teaches Yoga and other movement exercises. You can even take tennis lesson here."
Should you want to learn something else, they have someone at the resort who teaches computer classes, and woodcarving and basket weaving. "There's something going on here every day," said Bill. "We're pretty busy here. We just keep goin'."
Kick Back and Relax
For those who just want to sit back and relax a bit, there's time and places for that too. There's a park with a large pond on the property. "The pond has alligators in it," Bill said matter of factly. "You don't have to worry about them. You can just sit on the deck by the pond and watch them. They never come into the resort, and if the odd one does, we get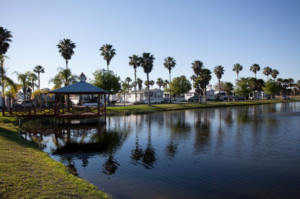 rid of it quickly. You can fish here too. It's all catch and release. If you want to go further out, Lake Okeechobee is only an hour east of here. You can go fishing and boating there."
Many residents just like to relax in the pool or have a soak in the hot tub. There's an exercise room, a weight room and pool tables and even a well-stocked library on site.
Happy Trails
The land around Toby's is fairly flat, making it easy to bike around the RV resort and into the town of Arcadia. "The only hills around here are man-made," said Bill. "It's fairly flat countryside so you can go quite a ways."
It's about a 20-minute bike ride, or a 10-minute car ride to Morgan Park which has some nice easy hiking trails. There's large open grassy areas for games and picnics. The park is located on the banks of the Peace River, which is reportedly a great spot for swimming and fishing. You may even see the odd armadillo, deer or squirrel as you walk the trails.
"There's a bike and hike trail near Toby's too and you can go up as far as the Winn Dixie and the hardware store," said Bill. "You can even ride your golf cart up there!"
From Village to Cities
The cozy town of Arcadia, FL is just a few minutes away from Toby's RV Resort. It has all the major amenities you'll need including a Walmart Superstore, "There are some small restaurants as well as fast food joints," explained Bill. "There's a couple good Italian and Mexican restaurants too. And the town even has a walk-in clinic and a Goodwill store."
One of the bigger draws to Arcadia are the antique shops. "There are over a dozen shops here," said Bill. "Then every third Saturday of the month they have an antique show and people come from all over."
As this is the middle of cow country, it's a given that there's an agriculture centre. The Turner Agri-Civic Center, has horse pulls, dog shows, beef sales and car shows, all within minutes of the RV resort. "They have a rodeo here in Arcadia too," said Bill proudly. "They're building a brand new rodeo station here. It will be the biggest rodeo east of the Mississippi and will have riders from all over the world come here just for the rodeo in February."
For those who miss what the city has to offer, you can find all the theatres, live music, shopping and fine dining you need in the surrounding areas. "Port Charlotte is just 35 minutes south of the resort, with Fort Myers about an hour and a bit south," said Bill. "Then there's Sarasota, about an hour away to the west. Fort Myers and Fort Charlotte have some great theatres. Pretty much everywhere you want to go is about an hour, hour and a half from here."
Do as You Please
With so much to see and do you may feel obligated to get out there and see and do as much as possible. Remember, this is your get-away, your time. Do as you please, knowing that at any time, on any day, there's always something else to do at Toby's RV Resort.
Have you visited toby's RV Resort before? Let us know about your experience!