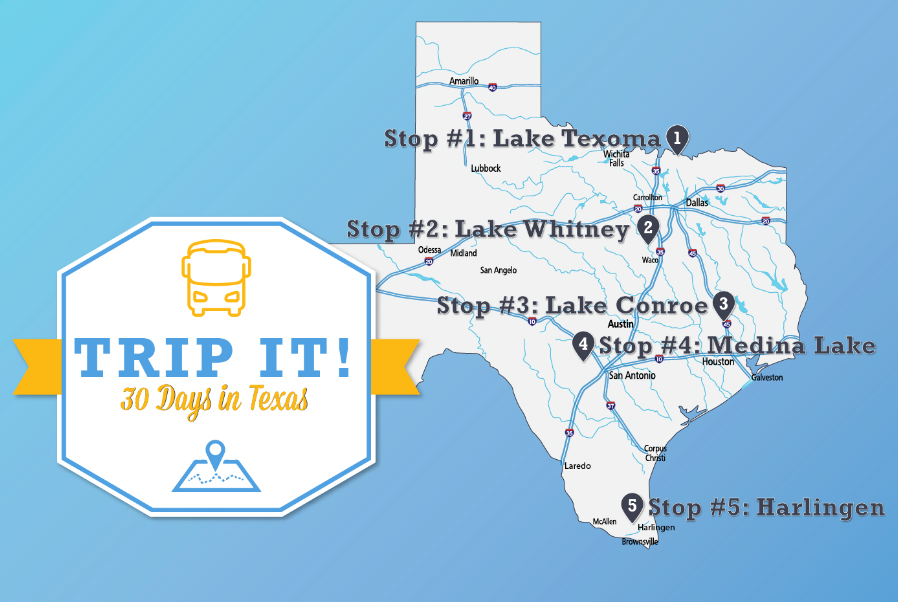 The Lone Star State is the biggest in the contiguous United States, with an even bigger personality. Texans are proud, (sometimes loud), and among the friendliest people you will ever meet.
30 days may not seem like enough time to visit the second largest state in the union (after Alaska) but if you follow this guide and apply some Texan gumption then it is more than enough time.
Lake Texoma (Days 1 – 7)
Texas may be big, but most of its major cities lie in a narrow corridor from north to south (with the exception of El Paso in the far west), so this is the route that our trip will take. We'll start in the far north, right on the border with Oklahoma at Lake Texoma.
Attractions
Lake Texoma is one of the largest man made lakes in the country, turning the dry grasslands that surround it into some of the most fertile farming land in the country. The area has "two wildlife refuges, two state parks, fifty four USACE-managed parks, twelve marinas, twenty-six resorts, hundreds of campgrounds and a variety of excellent golf courses." Popular pastimes include, camping, fishing, powerboating, sailing (Lake Texoma has some of the best inland sailing anywhere in the country), water skiing, windsurfing, swimming, and more. Suffice to say there is a lot to do.
Anglers should be aware, however, that you may need to obtain a fishing license from both Texas and Oklahoma to fish in this area.
Where to Stay
Lake Texoma RV Campground is the best choice for RVers looking to enjoy all this area has to offer. Located right on the shores of Lake Texoma, the resort offers RV and open air camping along with all the amenities that you need to make the most of your time in this amazing part of northern Texas.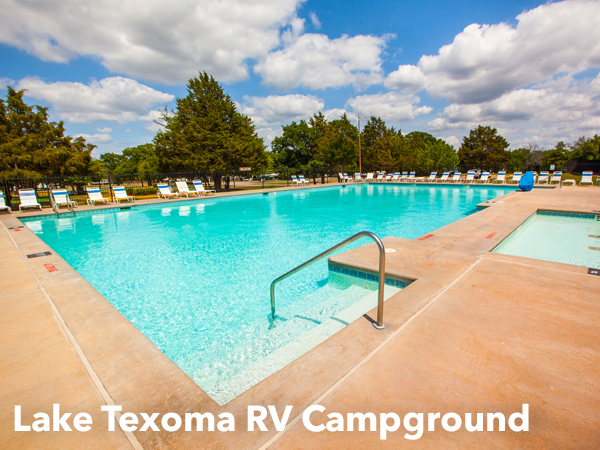 Lake Whitney (Days 8 – 14)
Just a short drive south from Lake Texoma is the less famous, but equally beautiful Lake Whitney. Whereas Lake Texoma is 223 square miles, Lake Whitney is just 32. Still, people flock from across the state to golf, swim, fish, hunt, powerboat, sail, and relax on Lake Whitney. In 2005 the Texas state legislature even named the area Texas's "Getaway Capital". More importantly, it is close to the Dallas-Fort Worth-Arlington area.
If you love sports, then this is the area for you. Comprised of, well, Dallas, Fort Worth, and Arlington, the area is home to over 7 million people and MLB, NFL, NHL, and MLS teams as well as 4 college football teams.
Then there is the Dallas World Aquarium, the unmistakable Reunion Tower, the Dallas Museum of Art, the Sixth Floor Museum in the book depository building from which Lee Harvey Oswald assassinated President Kennedy, the Dallas Zoo, the botanical gardens, and the Meadows Museum (home to more Spanish art than almost anywhere outside of spain).
Where to Stay
Lake Whitney RV Campground is right on the shores of Lake Whitney, and only a short drive from Dallas-Fort Worth-Arlington, so whether you want to spend more time on the water, or explore one of the country's largest metropolitan areas, Lake Whitney RV campground is in the perfect location.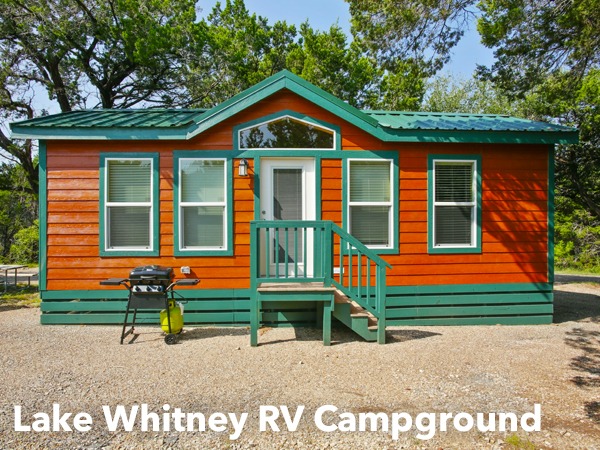 Lake Conroe (Days 15 – 21)
Just over 3 hours south of Lake Whitney is Lake Conroe. Like both Lake Whitney and Lake Texoma, Lake Conroe is a reservoir and while it is smaller than Lake Texoma it is more than double the size of Lake Whitney. Unlike both its northern counterparts however, Lake Conroe is surrounded by the beautiful east Texas landscape full of rich pine wood forests.
Lake Conroe is just an hour north of Houston, making it the perfect distance for a day trip (or two) into the city. Houston is home to just over 2 million people, making it less than ⅓ the size of the Dallas-Fort Worth-Arlington area, but there is no shortage of things to do and see. The city is home to an MLB, NFL, MLS, and NBA team as well as the Grand Prix of Houston, the Houston Open golf tournament, and the Houston College Classic and Texas Bowl.
Of course we couldn't mention Houston with out talking about NASA. Houston is home to the Johnson Space Center which has a huge visitors center that really is a must-see. Learn about the illustrious history of the Space Center and the bright future of NASA focusing on future missions to Mars. Show up on a Friday between 11 and 1 and you might even meet an astronaut! There is also the museum district, Zoo, Buffalo Bayou Park, great restaurants, and much, much more.
Where to Stay
Lake Conroe RV Camping Resort is right on the shores of Lake Conroe and includes a boat ramp on site so you can get boating as soon as you arrive! With an expanded marina and new beach, this is the perfect resort to relax and catch some rays. In fact, Lake Conroe RV Camping Resort is all about fun on the water, and if you don't have a boat you don't have to miss out on the fun. You can rent jon boats, paddle boats, kayaks or canoes.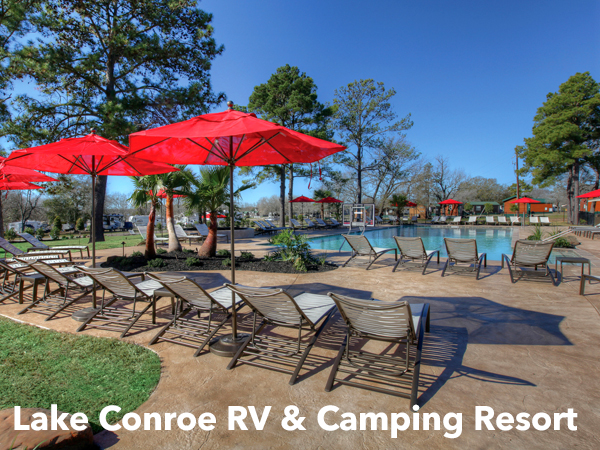 Medina Lake (Days 21 – 25)
At just over 9 square miles Medina Lake is by far the smallest of the lakes that you'll visit, but it still is great for relaxing. Interestingly the dam which forms the reservoir was privately financed in order to improve irrigation to the surrounding farmland, and at the time was the largest concrete dam in the country. It is now a historical site.
Nearby San Antonio is smaller than Dallas-Fort Worth-Arlington and Houston, but it is home to the most iconic location in all of Texas: the Alamo. In the center of the city is the historic battleground where the Republic of Texas defenders fought to the last man against General Santa Anna's invading army. Although they died and the Alamo was lost, ultimately the Mexican forces were forced out of Texas. Visiting the Alamo is free and will likely be the highlight of your trip
Where to stay
Medina Lake RV Campground is a tranquil escape from the big city life of San Antonio, complete with beautiful lake views, and whitetail deer that roam the grounds. With a junior Olympic sized pool, you'll be able to sit poolside with a refreshing beverage while enjoying the beautiful scenery and wildlife that this campground is known for.
Harlingen, Texas (Days 26– 30)
Just four hours south of Medina Lake is Harlingen, Texas, a great last-stop for RV'ers who are on route to Mexico. Harlingen is a premium shopping destination and has several epic golf courses and nature hotspots. With year-round tropical weather, visitors can enjoy surfing, horseback riding, and kayaking. Outdoorsman (or woman) will enjoy the plentiful fishing and hunting opportunities.
This area is part of the Rio Grande Valley, which is known to have the best birding opportunities in the country. That's because the Rio Grande Valley is home to beaches, wetlands and lakes. Be sure to check out the Lower Rio Grand Valley National Wildlife Refuge System, and South Padre Island, where you may be lucky enough to see a sea turtle (or two).
Where to stay
Lakewood RV Resort in Harlingen is minutes from the Padre Island National Seashore, which offers amazing views and glimpses of protected wildlife like the Kemp's ridley sea turtle, and over 380 bird species. The Padre Island National Seashore is a protected park with 70 miles of coastline and dunes, and is one of the few hypersaline lagoons remaining in the world.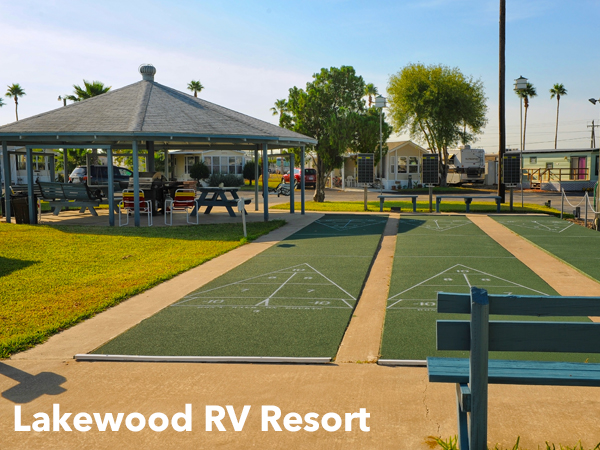 Fun-N-Sun RV Resort and Sunshine RV Resort are both right in the heart of the Rio Grande Valley.  With beautiful sandy beaches, these RV resorts live up to their names —you'll enjoy lots of sunshine here.  
Where to Next?
By following this itinerary you'll see everything that Texas has to offer, but RVing is all about freedom, so go ahead and create your own path if you choose! Our customer service team is happy to help you build a customized vacation itinerary. Give them a call at 1-877-570-2267 or visit RVonthego.com to plan your own trip.