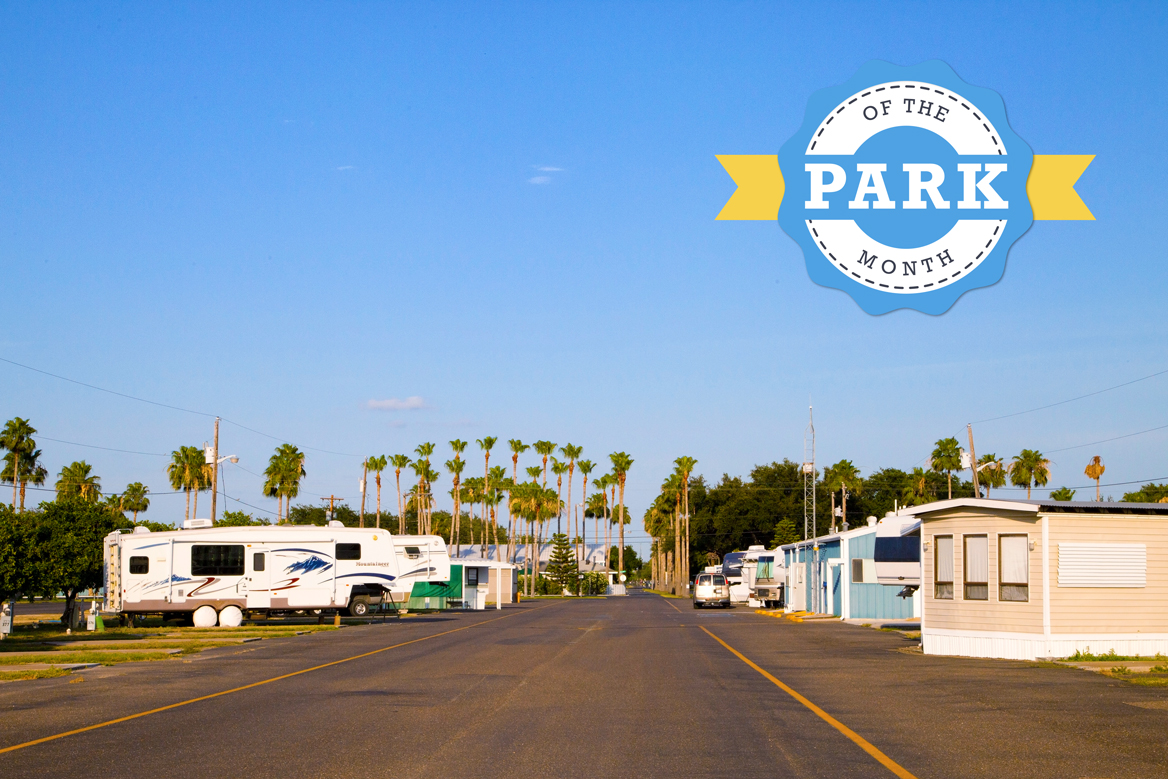 They call themselves, "the friendliest park in the valley," and the people who stay here agree! It's as if the majestic Rio Grande Valley welcomed you with open arms. Imagine waking each morning to the invigorating scent of nearby citrus groves. Some days you may detect a waft of enticing Gulf of Mexico air to tickle your olfactory senses.
Add to that plenty of activities, free coffee, dancehalls and dozens of groups to join. You'll love this winter home away from home.
Park Your Wagon
Alamo Palms RV Resort makes for an excellent hitching post. The perfect place to park your wagon while you're out exploring the Rio Grande Valley and the beautiful South Padre Island. When you want to stick closer to the comforts of your RV, this resort offers numerous choices in recreation, fun, and entertainment.
Get moving with pickleball, tennis, swimming, and shuffleboard. Keep your swing in top shape at the large golf driving net. For those traveling with four-legged canine friends, there are two spacious dog parks so your furry buddy can run free.
Many have made lifelong friendships with their fellow snowbirds here. There are several active and fun social experiences, such as regular potluck suppers and bingo games. When you're in the mood to cut a rug, head over to one of the two large dance halls. Don your best duds, shine up your cowboy or cowgirl boots and get ready to do-si-do the night away.
Go Exploring!
When you head out to explore the area, you'll find plenty to do. The City of Alamo, nicknamed the "Land of Two Summers", is known for being the doorway to the Santa Ana National Wildlife Refuge. This popular 845-hectare (2088-acre) refuge is home to a large percentage of all North American butterfly species. There approximately 400 species of birds, and rare creatures such as the Indigo Snake and the endangered Ocelot living here. If you're visiting the refuge during the winter months, take the tram that meanders throughout the refuge three times a day.
For something a little different, visit the Alamo Angels Museum for a divine exhibit. The Angels in Alamo display is a heavenly host to over 1,500 angels. Shirl Pfeiffer began collecting angels as a young child and donated them to the museum.  
If outdoor fun is more your speed, just a short drive away from Alamo Palms Resort lies the warm sandy beaches of beautiful South Padre Island. Once you arrive, you'll have many wonderful activities to choose from. Kick off your shoes, run your toes through the warm sand, enjoy a leisurely swim, then let the sun warm your soul while lying on the beach. Maybe you'd like to try your luck on the water by boarding a boat and going shrimping or deep-sea fishing.
For a unique water experience, consider joining a group and searching for dolphins with The Original Dolphin Watch. These amazing mammals often put on a show for spectators aboard The Double Sunshine. Be sure to have your camera ready and your ears tuned to listen for the many clicks, whistles, squeaks, and squawks these playful and intelligent creatures make.
After a busy day of outdoor adventure, imagine how good your body will feel after a relaxing massage. The Massage and Healing Arts Center has many different services to offer, such as deep tissue and Swedish massage, manicures, pedicures, and rejuvenating facials. Be sure and set some time aside to pamper yourself!
For history and culture buffs, the International Museum of Art and Science is a must see. Located in the City of McAllen, just a short drive from Alamo, this world-class museum is sure to amaze you with its wide variety of exhibits. Take your time and discover the fascinating feature of the ceiling being reflected as you look through the front door of the museum. Hint: there is a mirror involved.
Local Cuisine
Before heading out on a full day of excitement and adventure, enjoy a delicious Mexican inspired breakfast at Alamo Tortilleria and Bakery. This eatery was given a 5-star rating on Tripadvisor.
Several mouth-watering options await you at this quaint little restaurant, such as homemade corn and flour tortillas, freshly made Mexican sauces, cheeses, as well as boiled beans. With so many delicious items to choose from, the hard part will be deciding which to try first.
At the end of a day of exploration, your tummy may be grumbling. It's the perfect time to check out Willie B's Barbeque who has, according to one reviewer, "the best barbecue in the Rio Grande Valley!" When it's time to satisfy your sweet tooth, be sure to stop in at Manjar Bakery for some delicious Mexican pastries, such as their delicious sweet bread.
When you've done all you want to do for the day, return to your RV knowing tomorrow is another day filled with as little or as much to do as your heart desires.