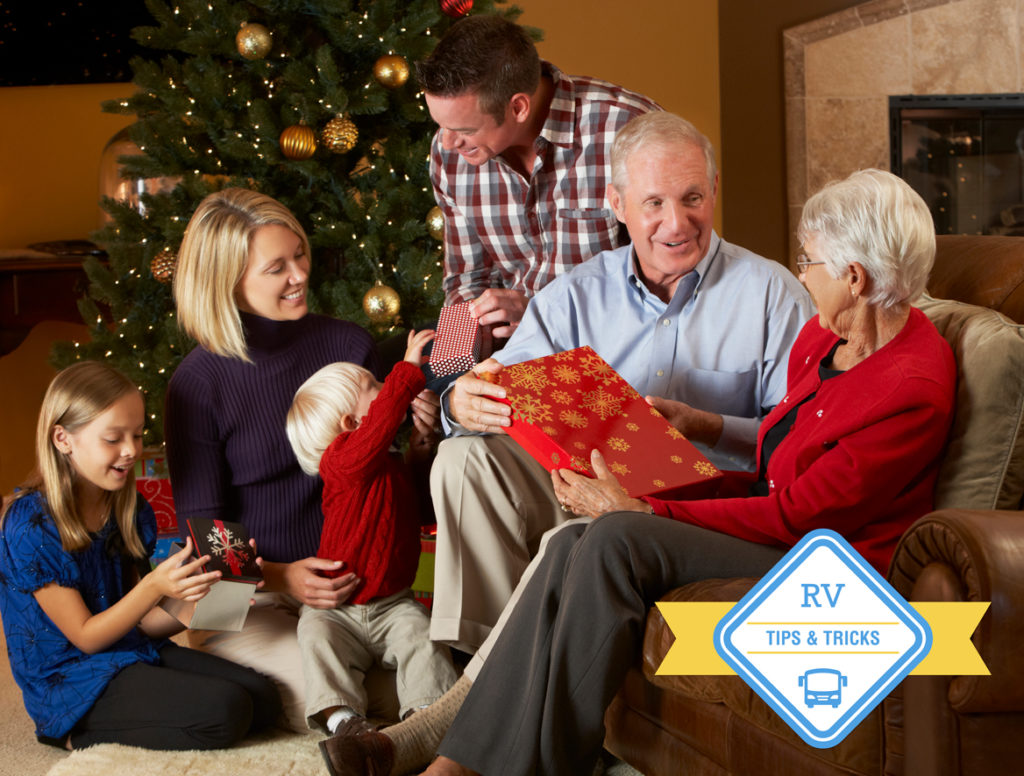 The holiday season is fast approaching, but for some of us it's a time of stress, not joy, especially when it comes to buying a gift for the person who has it all. Well, whether it's a spouse, a parent, or yourself, if you know an avid RVer then this is the ultimate Christmas gift list for you! And the best part? All these gift ideas are under $50.00!
Fun Gifts
Remote Controlled Cooler ($44.95)
The remote controlled beverage cooler is both an entertaining and practical gift for the RVer in your life. Running on two AAA batteries, it rolls around delivering cold beverages. The host has the remote control and can decide where the cooler rolls (watch out and make sure they share)!  
Rainbow Flame Sticks ($5.99)
Rutland rainbow flame sticks can be tossed into any campfire to make the flames turn beautiful colors for up to forty minutes. Children and adults will both love the ambiance created by these colorful flames.  The packaging burns to ash and you don't have to worry about these sticks harming your fire pit or chimney.
Scattegories ($22.95)
Scattegories is just one of many popular games that can be played with several people. Games and puzzles are great gift ideas for an RVer, especially when rainy days hit and they're stuck inside their RV for hours at a time. Scattegories offers entertainment and some brain exercise!
Removable State Stickers ($47.01)
Keep track of all the states you've visited during your RV adventures with this pack of state stickers. The best part is that they're removable so you can bring them with you if you upgrade your RV!
Practical Gifts
RV Step Rug ($28.00)
For anyone with RV steps, this step rug is a must-have. Available in a variety of colors, this rug will help keep your RV clean by minimizing the dirt and mud that's tracked in. Plus, it'll also add safety by increasing traction on your steps, especially on rainy days.
Portable Grilling Set ($27.60)
The Cuisinart portable grilling set is a must-have for any RVer. The travel case contains a chef's spatula, grill tongs, silicone basting brush, cleaning brush, extra brush head and four pairs of corn holders – everything you need when you're barbequing on your RV trip. The aluminum case keeps everything contained in one spot and makes it perfect for traveling.
Solar Power USB Charger ($25.82)
Sometimes in an RV, there are long periods of time during travel where passengers do not have access to electricity. The solar power USB charger is a great gift for an RV'er. With this nifty device, you can charge your phone anywhere and never run the risk of having a dead phone if you need to make an emergency phone call or access the Internet or an app to find directions.
Scrubba Laundry Bag ($46.09)
The Scrubba portable laundry system is a wash bag that is easily transferable for those times when you don't have access to a washer and dryer. Fill the bag with water, soap and your clothes and roll it around. The built-in nodules give your clothes a deep scrub and ensure they come out sufficiently clean. The Scrubba can be folded up and stored easily in the RV.
Awning LED Light Strip ($29.88)
LED Lights are a simple way to add light and increase safety around your RV at night. This LED Light Strip is easy to install and comes in a variety of lengths to ensure the perfect fit. It's extremely bright and includes a standard 12V power cord and 44 key IR remote.
Camco Grey Plastic Stepstool ($8.94)
This little step stool is a perfect size because it helps give you the lift you need to reach things that are high up and is small enough to store easily.
Do you have a great gift idea for RVers? Let us know! And be sure to check out the Camper's Inn RV online store for even more ideas!