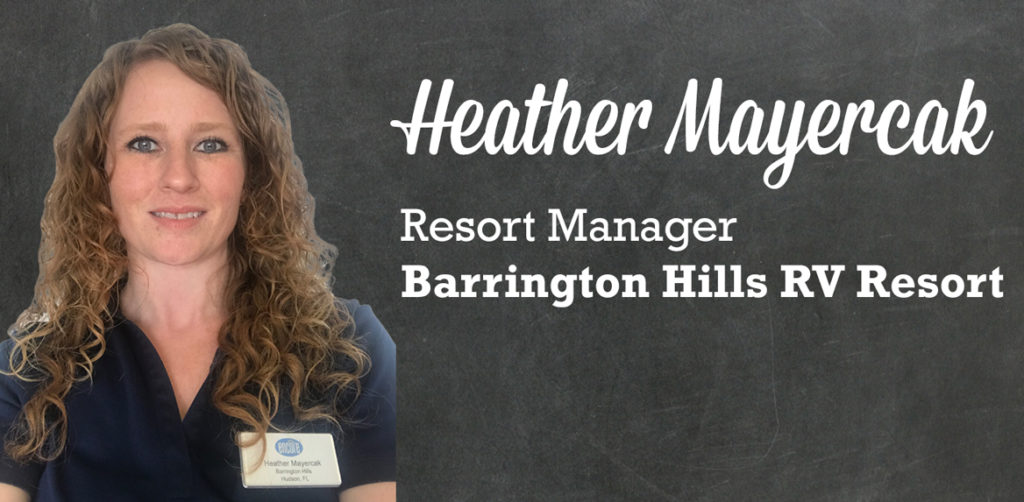 Bio
Last name: Mayercak
First name: Heather
In position since: March 2015
Title: Resort Manager
Work Location: Barrington Hills
Favorite hobbies or sport(s): Spending time with my friends and family
What's the most rewarding aspect of being a Park Manager?
To see the faces of the lives you touch every day.  It is also rewarding to build relationships and friendships with all the residents and guests at Barrington Hills.
How do you help make guests vacations at Barrington Hills special?
We always make sure they feel welcomed and that we are excited they are there to stay with us.  We also do our best to meet all their needs during their stay.
Can you share something you've learned from your guests?  I have learned so much from my guests.  Their life stories, their past travels, stuff about their family – it is so important to just sit and listen and you can learn so much about someone.
What's special about Barrington Hills?
At Barrington Hills we are more like a family.  We always have a great time and enjoy all the events together.
Can you use 3 words to describe your RV park to someone who is considering visiting your property?
The three words to describe Barrington Hills is family, friendly and fun.
What area attractions or entertainment do you recommend guests experience while at Barrington Hills?
We are less than an hour from Clearwater's famous beaches and only 30 miles from the springs in Weeki Wachi.  We are also part of Florida's Nature Coast!
What accomplishment at Barrington Hills are you most proud of? Why? 
Over the past 2 years we have made a lot of improvements to the property and we are continuing to do so. This includes adding the first floor curling court among out Florida RV resorts. We have also built a lot of positive relationships by being part of their lives by going to their events and parties.
What does a typical day at Barrington Hills look like?
A typical day at Barrington Hills always starts off with a smile and positive attitude to make sure we are ready for the day ahead of us.
Can you share your favorite memory at Barrington Hills?
My favorite memory at Barrington Hills was during Easter 2016.  My residents all asked if I would be joining them for Easter Dinner. When I walked in with my husband and kids, seeing the excitement on their faces was priceless! They loved that we joined them before they journeyed back home.
Can you recall a time when the guests at your property surprised you?
The guests at Barrington Hills are always sending thank you cards, buying flowers or candy for the office. It's a surprise each time!
Can you tell us about some of the friendships that have developed between guests at Barrington Hills?
When you walk in to an event knowing that someone may have lost their spouse or child, seeing the love and care between the residents is something that I will never forget.
Why do you think your veteran guests keep coming back to Barrington Hills?
There are many reasons why guests return to Barrington Hills.  One is the friendships that have built over the years – most of my guests have been returning for 10-15 years.  We always do our best to make sure everyone is welcomed and feels like they are part of our Barrington Hills family.
Do you have any last words or thoughts for your guests?
Our goal at Barrington Hills is to provide our guest with the best experience, whether they are there for one night or six months.  We want everyone to feel welcomed and like they are part of our community and that their stay with us is not like any other resort.