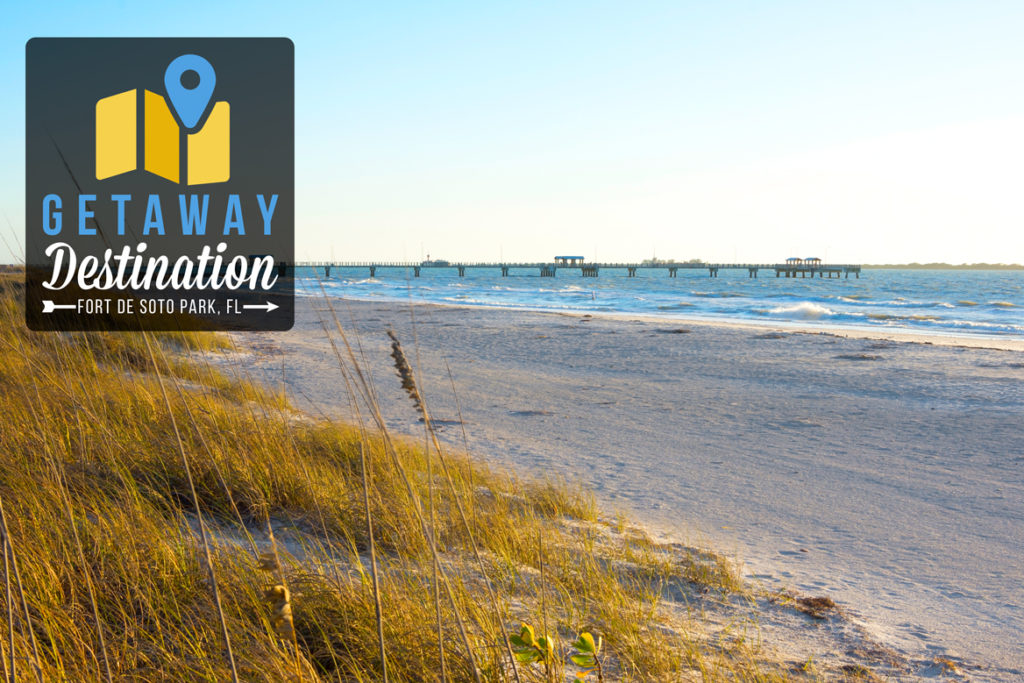 When you are looking for a bit of get-away-from-it-all, Fort De Soto Park is the place to go. Water lovers, history buffs, animal lovers, hikers, bird watchers, and others, will find more than enough here to enjoy. Come for a day, or visit every week, the Fort De Soto Park is waiting for you to discover all its wonders.
Beaches and a Bombing Range
Once you arrive at Fort De Soto Park you'll notice there's not much here, except miles and miles of beaches, a concession stand, a pier and an historical fort. Take a peaceful stroll along the beach collecting shells. Look out into the water at sunrise or sunset, and you'll probably spot dolphins playing in the surf. You can bring your four-legged friend with you as there is a dog park here and dog beaches. You don't have to walk far to find some solitude. The park is quite large. There's 1,136 acres containing five interconnected keys. It is estimated there are over seven miles of waterfront here, with three miles being nothing but white sandy beaches.
Pack a picnic lunch and relax in one of their picnic pavilions. Should you prefer, hike and bike the surrounding area. There are seven miles of paved trail connecting North Beach, East Beach, the boat ramp and the camping area. Or just spend the day lazing about on the beach. This is also a great place to take out your kayak and explore along the shore. There is natural beauty for as far as the eye can see.
This park is also chock full of history. Once inhabited solely by the Tocobaga Indians, that changed in the 1500s when Spanish explorers landed on their shores. In 1940, it became a bombing range, but Fort De Soto was never the site of any major battle and their weapons were never fired in combat. You can take a walking tour of the fort and imagine what it must have been like all those years ago.
Park Flora and Fauna
The keys of Fort De Soto Park are home to palm hammocks, mangroves, hardwoods and a variety of native plants. This amazing ecosystem is home to more than 328 species of birds. These have been documented by ornithologist over the past 60 years, and they are still adding more.
Like turtles? Look closely and you may find a loggerhead sea turtle taking refuge here. They nest between April and September.
Fishing is great in this area and there is a boat launch here with plenty of docks, should you happen to bring your boat. If not, there are dozens of boat rental facilities, and tour operators who would love to take you out for a day of saltwater fishing. Fish from your kayak, from shore, or off the pier if you prefer. There are two fishing piers here, each with a food and bait concession.
There are many places to stay in the area, our favorites are the Terra Ceia Village RV Resort and the Winter Quarters Manatee RV Resort. Both are between 35 and 45 minutes from Fort De Soto Park.
Terra Ceia Village RV Resort
Located south of Tampa, in Palmetto, FL, when you stay here you'll also be close to some great attractions within about a 50 to 90-minute drive.
Walt Disney World, Epcot Center, and Sea World are great for day trips and are about 1.5 hours from the resort. In Tampa, 50 minutes away, there's also the Seminole Hard Rock Casino, the Adventure Island water park and Busch Gardens.
You won't be disappointed by the variety of restaurants and shopping nearby. At last count, there were about 160 restaurants in the Palmetto area. Choose from seafood, pizza, steakhouse, Italian, Greek, Thai, Mexican, or Chinese. As for shopping, there's everything from outlet malls, to antique shops, to clothing and jewelry stores.
When you just want to stay close to home, there are still plenty of things to do at the Terra Ceia Village RV Resort. Try your hand at arts and crafts or take an exercise class. There's bingo, cards, sightseeing tours, as well as weekly potlucks.
Winter Quarters Manatee RV Resort
Twenty minutes SE of Terra Ceia is Winter Quarters Manatee RV Resort in Bradenton, FL. It's a great location to get you to other Florida must-see places like Anna Maria Island. Its main avenue is lined with places to eat, galleries and shops. You're also a short drive away from Siesta Key and their glorious beaches. Sink your toes in as you walk over eight miles of the finest, whitest sand on the Gulf of Mexico.
The city of Bradenton has a perfect mix of museums, parks, a vibrant downtown, and a working artists' community. Check out the South Florida Museum which contains the Parker Manatee Aquarium and the Bishop Planetarium. When you meet the manatees, you may understand why sailors once mistook them for mermaids. There's also the Manatee Village Historical Park where you can step back in time to days before paved roads and electricity.
Have a need for speed? Then spend some time at the DeSoto Super Speedway. The front gates open at 4:30 and the racing starts at 7 p.m.
Meanwhile, back at the RV park, there's dozens of things for you to do. Sign up for the Men's or Women's Golf League and enjoy some of Florida's finest golf courses. Put on your dancing shoes and head over to the dancehall. Choose from ballroom, line, country western, swing, and square dancing. They'll even teach you if you don't know how. Try your hand at woodcarving or one of their arts and crafts. One thing's for certain, you won't be bored here.
When you're thinking of spending your winter near white sandy beaches, tons of history and among fun and friendly people, these are the places to stay.